Grand Theft Auto 5 «Caterpillar D7R Bulldozer»
Caterpillar D7R Bulldozer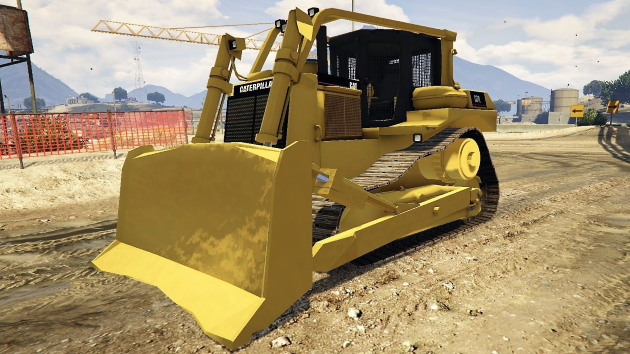 Мод Caterpillar D7R Bulldozer
Мод Caterpillar D7R Bulldozer для GTA 5 добавляет в игру бульдозер. Гусеничный бульдозер считается надежной и простой в обслуживании и эксплуатации машиной серии R.
Caterpillar Inc., «Катерпиллер» — одна из ведущих корпораций по производству крупнейшей спецтехники в мире. Выпускает землеройно-транспортную технику, строительное оборудование, дизельные двигатели, энергетические установки (работающие на природном и попутном газах) и другие продукты, а также обувь. С недавнего времени также и защищённые мобильные телефоны и смартфоны.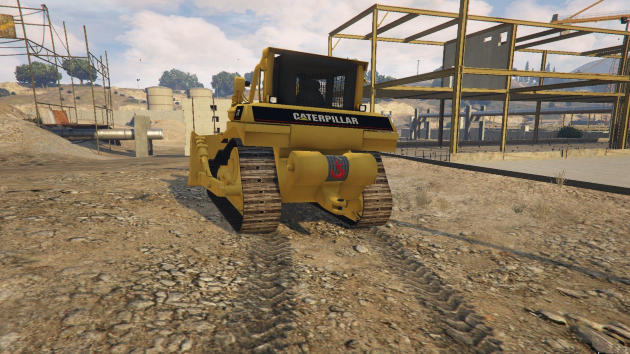 Бульдозер Caterpillar D7R
В составе более 480 подразделений, расположенных в 50 странах мира на пяти континентах. Штаб-квартира располагается в Соединённых Штатах.
Особенности модели
Остаются дыры от попадания пуль;
Работающие приборы;
Настроенная камера при вождении от первого лица;
Руки на руле;
Проработанная модель двигателя;
Отображение в зеркалах высокого качества;
Своя тень;
Проработанный маппинг грязи;
Модель содержит все уровни детализации (LOD);
Модель совместима с основными функциями игрового движка;
Качественная HQ модель;
Подробно проработанный интерьер.
КАК УСТАНОВИТЬ МЕТОДОМ ЗАМЕНЫ
Вам нужна программа OpenIV.
Включите режим редактирования «Вкладка — Файл, пункт — режим редактирования».
С помощью программы перейдите по пути — update / x64 / dlcpacks / patchday3ng / dlc.rpf / x64 / levels / gta5 / vehicles.rpf
Замените файлами из архива.
Более подробная инструкция — Как установить транспорт в GTA 5.
Как пользоваться оригинальными файлами игры, и ее модифицированной версией? ответ тут —Параллельное использование модов GTA V в OpenIV.





1 оценок, среднее: 5,00 из 5
Caterpillar D7R
Bulldozer
The Caterpillar D7R bulldozer is a commercial design, modified to suit military needs
The Caterpillar D7R is a commercial bulldozer, that is widely used by the US military. This machine was designed and built in the United States. It follows the line of the Caterpillar D7 series bulldozers, that first appeared in 1938 and with constant improvements are produced ever since. These bulldozers are used by all branches of the US military. The Caterpillar D7R medium bulldozer was introduced in 1996. In the mid 2000s it was replaced in production by improved D7R Series II. These replaced in US service the older D7G and D7H bulldozers. Currently Caterpillar military products are offered by a subsidiary Caterpillar Defense & Federal Products company.
The Caterpillar does not manufacture any special militarized version of the D7R bulldozer. However after some modifications this earthmoving machine is employed for military applications. Modifications include transport provisions, blackout lights, military paint, keyless ignition and so on.
The D7R has an elevated sprocket undercarriage, that is more durable and efficient during earthmoving. Such undercarriage was present on the previous D7H model. Due to its elevated nature the operator's station provides excellent observation of the blade and rear of the machine. Operational weight of the dozer is 27 t. The improved D7R weights 25 t.
Main role of the Caterpillar D7R bulldozer is earthmoving. It is used for construction of defensive positions, anti-tank ditches, construction of obstacles, obstacle clearing, route opening, demolition of structures, and recovery of stuck combat vehicles. Once fitted with an armored cab and special mine flail, the D7R can even clear minefields.
This bulldozer is equipped with a detachable blade. Various blades can be fitted. The most common is a universal blade with side wings, which allows to carry more material. Also there are straight blades without side wings for fine grading, angle blades, two-way blades and so on. The D7R dozers are often fitted with a rear-mounted rake attachment.
The D7R dozer can also perform recovery and towing operations. It can tow combat vehicles with a maximum weight of around 35-40 t.
For operation in hostile or combat areas, the Caterpillar D7R dozers can be fitted with armored cabs. These add-on cabs are mounted on vehicle's frame and require no modifications to the vehicle structure. The armored cab provides protection from small arms fire, artillery shell splinters and mine blasts. Some dozers even have armored engine compartments. Additional armor reportedly has no effect on the overall earthworking performance.
The D7 dozer is operated by a single operator. This machine carries no defensive armament. Even versions with armored cabs are normally unarmed.
This earthmoving machine is powered by a Caterpillar diesel engine. The improved D7R Series II dozer is powered by a 258 hp engine, that had 240 hp power at the flywheel. Due to its low mobility the D7R bulldozer must be transported on trailer between mission sites.
In the US military service a couple of Caterpillar D7R bulldozers are typically assigned to combat engineer companies.
The D7R is in the middle of the Caterpillar's bulldozer range. The smallest are D3 dozers, while the largest are D11 series dozers.
Caterpillar D7R Series II is an improved version produced since the mid 2000s. It is the latest model used by the US military. It is powered by a 240 hp engine and weights around 25 t. Armored versions of this dozer are used by Egypt.
Caterpillar D7E was first introduced in 2008 and replaced in production the previous D7R Series 2 in 2009. It is a current production version, proposed to commercial operators. This machine has electric drive system. The dozer has a 240 hp engine, which powers a pair electric drive motors. Compared to the previous D7R Series II it is 25% more fuel efficient.
Used Caterpillar Bulldozer Cat D7r Dozers with Ripper Second Hand Crawler Bulldozer D5K D5g D6d D6r
You Might Also Like
Product Description
Customer Question & Answer
Used Caterpillar D7R Bulldozer with Ripper available for saleQuick Details:Model:Cat D7RDimension:5817mm*2869mm*3573mmOp
Used Caterpillar D7R Bulldozer with Ripper available for sale
Quick Details:
Engine Model:Cat 3306
More photos on request
Photos of Machine:
CAT D7R Bulldozer Specs
Number of Cylinders
Number of forward gears
Number of reverse gears
Shipping
2. Bulk cargo ship
Payment Term
30% deposit after you co nfirmed and received the PI
40% after we booked the shipping space
30% againest copy of B/L
Co ntact Info
Mobile :+86 187 17775120
Office Line:+86 21 36509889
We also have CAT D3C D4C D5C D5K D5G D5H D6D D6H D6G D6R D5M bulldozers
We are supplying various used co nstrction machines globally for users from different countries. Our machine stocks includeexcavators,bulldozers, wheel loaders, road rollers, motor graders, dumper trucks, forklifts and cranes,and we alwyas trying to provide machines with excellent quality and good prices.
Any more questions, feel free to co ntact us by email or whatsaap us +0086 18717775120
Bulldozer CATERPILLAR D7R
Contact the seller
emission class: Euro 4
fuel: diesel
displacement: 10 500 cc
gearbox: manual
body material: steel
loading volume: 5.20 m³
tank volume: 479 L
gauge
tool box
cabin
roof spoiler
cab side spoilers
fog lights
xenon lights
additional lights
working lights
sunvisor
power windows
central lock
air conditioner
passanger pneumatic seat
seat belts
radio
units available: 100
warranty
number of previous owners: 1
Machine Runs & Works Great
Regularly maintained and serviced
Excellent Working Condition
If any details and questions about the machine , you can contact with me at any time as following:
Contact Person: Leo
Whats App / Wechat: +86 188 1652 6005
Mobile: +86 188 1652 6005 (Imo / Viber / skype)
WANTIAN TRADING CO.,LIMITED is one of the biggest used machines supplier and owns our own big yards, to fully handle Used Construction Equipment, especially Crane repair and exportation business.
Our major products are used crane including used truck cranes, used rough crane and crawler crane. The capacity ranges from 20 tons to 200tons, and brands include TADANO, KATO and XCMG. All of them are original and under good working conditions.
We also export others used machines, such as: Excavator, Wheel loader, Forklift, Bulldozer, Backhoe loader, Grader, Road roller, Dump truck, Concrete pump, Concrete mixer.
We sincerely welcome more friends to visit our company and give us precious suggestion for our further development.