Spider Solitaireигры
Spider Solitaireигры
Friends!
We present to you a new version of Spider Solitaire where all hands are matching!
2 decks of cards are used in the solitaire. 54 cards are dealt into 10 stacks (4 stacks of 6 cards each and six ones of 5 each), the remaining 50 are dealt into 5 stocks 10 cards each face down in the right lower part of the play area. In each stack all cards except the top one are closed. It is allowed to move cards from one stack to another according to the following principles:
the top card of any stack can be moved onto an empty stack;
the top card of a stack can be moved onto the next card higher in rank (a seven onto an eight, an eight onto a nine and so on) regardless of its suit or color;
a stock of successive cards of the same suit can be moved as one card.
If there is a situation when you are no longer able to move cards or do not wish to do so, you should click on the stock of cards which is in the right lower corner of the screen, and a new row of cards will be dealt to you.
If the top close card of any stack is released, it is automatically opened. As soon as a stock of successively collected cards of the same suit appears, it is automatically removed into the house. It is allowed at any time when there are no empty stacks to take one of the reserved stocks of 10 cards each and distribute these cards one to each stack. The goal of the game is to collect all cards into the house.
Upper panel of buttons
Move backward, move forward: (also keys «arrow to left», «arrow to right» on the keyboard) allow you to move as you decide forward or backward, until the very beginning.
new game: begins a new game. By pressing repeatedly the key «new game» you can browse the games and select a desired spread. Using the keys «arrow up», «arrow down» you can move through the offered spreads. Only those spreads will get into the history of your games which you began to play (i.e. made at least one move)
1 suit, 2 suits, 4 suits — are a change in the mode of the game
Autocompletion — when the spread is obviously laid out in a way that it matches, and its completion can be effected using the button «Autocompletion»
Possible moves — backlights with yellow the cards which can be moved. This does not mean that this move is obligatory, it is for you to decide. The right strategy is not to make all moves randomly, but to You can turn off this mode by pressing repeatedly the button «possible moves». follow your own strategy.
Playing board info

A list of your attempts is indicated above, with an option to return to any one of them. The large number indicates the number of your current take. Red colored number indicates the number of hands which you have solved. To go to another attempt, press on the relevant number. When returning to unsolved hands you shall see the previous positioning of the cards. When you go to solved hands, you will be able to see how you had made your moves by scrolling «redo» and «undo» buttons.
You shall find hand info below the attempts list:
Hand number (999);
Hand rating (rating 1:38) — average time spent by all players to solve this hand, the number of players who solved the hand out of the number of the players who attempted to solve it;
Current time of the latest attempt (time 2:41). If you haven't made a single move during 15 seconds (e.g. you got distracted from the game), time freezes. The frozen time is highlighted in blue. Any move made afterwards resumes the time count;
Total time spent on all attempts (total time 4:30).
Green dot means you have Internet connection, red dot means you are disconnected. You can still finish the hand while disconnected, but it will not be saved in your history, and you will not participate in the rating unless the connection restores while you are playing.
Lower button panel

By opening Settings you will be able to:
Set an order of new hands: «play in random order» — by pressing the «new game» button a random-numbered hand will load up; by choosing «play in succession» mode numerically successive hand will load up;
Set the mode «only unsolved hands played by me», whereby hands in numeric succession or random hands will appear;
You may go to a certain hand by entering hand number in the «enter hand number» bar.
All hands — a list of all hands of the game with an option to view the statistics on each of them and to sort under several parameters.
History — allows you to see the entire history of all games played by you, to view statistics and your position in the overall rating according to the number of the solved hands (only for registered users).

About the hand — upon pressing this button the following will appear:
Comment — allows you to leave a comment and/or add the hand to your favorites (only for registered users).
Rating — rating of the players initially arranged according to the number of the solved hands.

Rank — displays players' position in overall rating.
Date — column refers to the player's registration date for a particular game.
Solved — how many hands was solved for today (green numbers with the plus show how many hands you tried to solve from 5 a.m. UTC of the previous day till 5 a.m. UTC of the current day).
Total — column shows how many hands you have tried to solve for today (green numbers with the plus show how many hands you tried to solve from 5 a.m. UTC of the previous day till 5 a.m. UTC of the current day).
Percentage — refers to the correlation of the number of the hands you solved to the number of the hands you have attempted to solve.
1st places — displays the number of first places according to the time spent to solve hands.
When you press one of the columns, the order of players may change depending on results.
Sign in / Profile — an option to enter personal profile, sign in or register.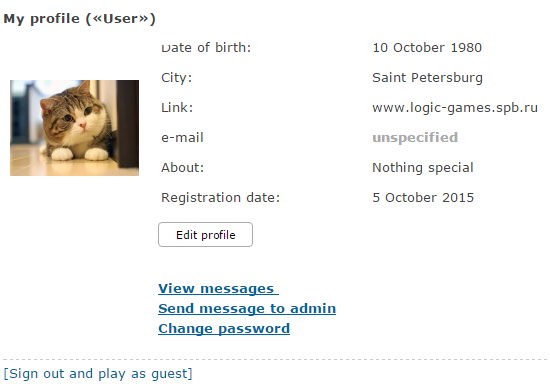 Inside your profile you can fill out some additional personal information, upload a photo, as well as store and maintain messaging with other registered players.
Registration
You can play without registration as a guest. After having registered and/or authorized you will be able to manage your profile and send messages to other players.
To register, you have to enter your user name (at least 3 symbols) and password (not less than 5 symbols). If such a name already exists you will have to enter another one.
SPIDER SOLITAIRE
Spider is a Solitaire game made popular by Microsoft Windows. It is played by 1 person only and uses 2 decks of cards. To fully understand how to play Spider Solitaire, we will first take a look at the playing field. The field is made up of 3 sections:
The Tableau is the section in which the game is played. Here, around half (54 cards) of the 104 cards in play are arranged in 10 columns. The top cards are always dealt face up.
The Stock contains the 50 cards that have not yet been dealt. Each column in the tableau gets a new card whenever you tap on this stock.
The Foundation will ultimately contain all 104 cards, sorted by colour and in order from King to Ace, arranged in 8 stacks.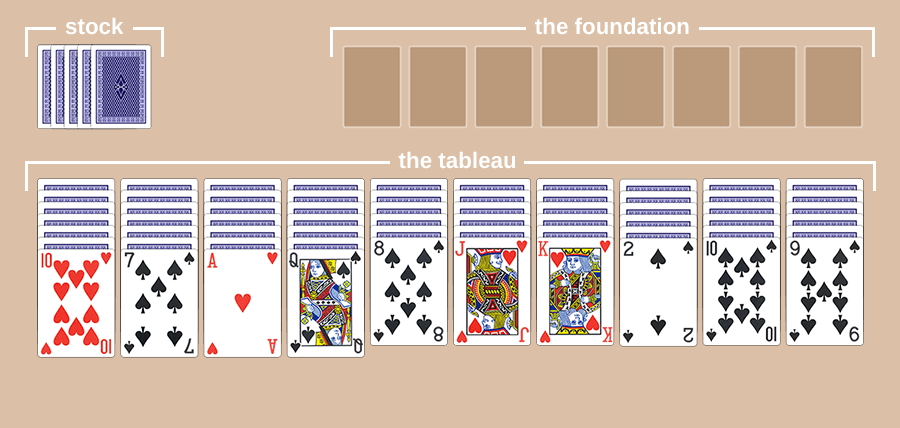 The aim of Spider Solitaire is to move all cards from the tableau to the foundation. For this purpose, you must arrange all cards in the tableau in descending order in the same suit, from King to Ace. Once you have completed a sequence, it will automatically be moved to the foundation and you can start on the next sequence and so on, until you have cleared the whole tableau.
Our Spider Solitaire game has 3 levels: 1 colour (easy), 2 colours (more challenging), and 4 colours (extremely challenging, only for the real expert). Level 1 is played differently from the other two levels:
1 suit
This is our beginner's level. It is played with just one suit: Spades! In this game, you do not need to take account of the colours when moving the cards. The most important rule of the Spider Solitaire game is that you can only place a card on top of another card that is 1 point higher in value.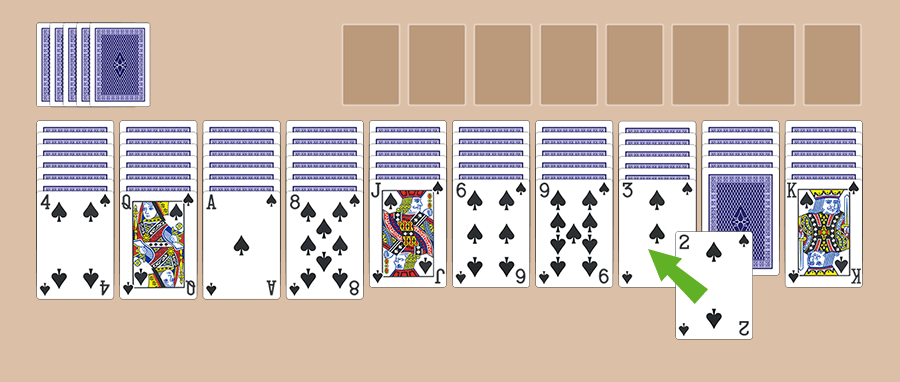 For example, you can only place the 2 of Spades on the 3 of Spades (see illustration). It is also possible to move several cards at once, if they are all in ascending order with a one point difference. For example if the 7, 6, and 5 of Spades are on top of each other, then you can move all three at the same time to an open 8. Whenever you move a card that was face down, the previously hidden card will be turned up. Furthermore, it is important to know that you can place any random card in an empty column and that you go back one step using the undo button.
2 and 4 suits Spider Solitaire
This functions largely in the same way as playing with a single suit, except that you need to take the colours into account. When playing with 2 or 4 suits, you can simply move cards to other cards that are one point higher in value, irrespective of the colour. For example, a Jack of Clubs can be placed on a Queen of Hearts. However, complete sequences can only be cleared to the foundation if they belong to the same suit. So, it is a good idea to arrange the cards by colour as much as possible when starting the game.
Dealing new cards from the stock
You must deal new cards when you can no longer move any cards. You can only do this if there is at least 1 card in each column. So, fill all empty spots before dealing.
A few more handy tips for winning:
Empty columns: try to empty columns as quickly as possible and use them as temporary storage to see under cards that are face down, to check if they are useful. Use the undo button to go back and try another column.
Managing columns: try to split columns into 2 different categories: work stacks and waste stacks. Try to keep the work stacks neatly arranged and use them to build parts of sequences. The waste stack serves for cards that are no longer useful.
Take your time: the speed with which you complete a game does not yield points. So, take your time to find the right move.
Using a keyboard? Use the key combination CTRL + Z to undo a move and CTRL + H to get a hint.
Spider Solitaire
2.9.496 for Android
Используйте приложение APKPure
Быстро, бесплатно и безопасно для ваших данных!
Описание для Spider Solitaire
Spider Solitaire – одна из самых популярных в мире карточных игр с одним участником. Правила игры в Spider Solitaire очень схожи с классической игрой Солитер; Если вы поклонник пасьянсов на ПК, вам точно понравится этот бесплатный Spider Solitaire!
Помимо оригинального игрового процесса мы добавили в Spider Solitaire множество новых функций, включая настраиваемые темы. Мы считаем, что с этими функциями вы будете наслаждаться Spider Solitaire совершенно по-новому.
♠ Классический игровой процесс Пасьянса Свободная ячейка
♠ Увлекательный и интересный
♠ Оптимизирован для игры на мобильном телефоне
♠ Красивые настраиваемые темы
♠ Задание
♠Аккуратное удобное меню
♠Большие карты, удобные для глаз
♠Для перемещения карт достаточно коснуться или перетащить
♠Настраивайте красивые темы
♠Поддержка режима таймера
♠Поддержка игры для левшей
♠Поддержка ландшафтного режима игры
♠10 лучших результатов сохраняются в памяти
♠По завершении автоматическая сборка карт
♠Возможность ОТМЕНИТЬ предыдущее действие
♠Подсказки
♠Играйте в офлайн, не тратя траффик
♠Поддерживается несколько языков
Если вам нравится играть в Spider Solitaire на ПК или в другие карточные игры, вам стоит попробовать эту! Это одна из наших самых высоко оцененных игр-пасьянсов! Скачайте сейчас бесплатно!
SPIDER SOLITAIRE 444
Play Spider Solitaire free online, one of the most popular patience card game! Now on Multiple Devices!
About the game
Spider Solitaire — one of the most popular patience card game in the world, which is included in the standard set of games of the Microsoft Windows operating system, thanks to this game became popular and famous. Where did the patience get such an unusual name? The answer to the question lies directly in the process of unfolding solitaire, the cards and a stack of cards move in all directions, the collected card chains, as if spiders are coming down. It seems that some invisible spider weaves its unusual web.
You can play mobile Spider Solitaire 444 on our website. This free online game is available in browser across all your Android, iOS and Windows devices. Good luck and have a good time!
Rules for Spider Solitaire
The overall goal of course is to create on the tableau 8 suites of 13 cards in a descending suit sequence from King to Ace and to remove all cards from the table. However there are three different variations of Spider Solitaire. It all comes down to suits. Each card deck consists of four of these suits — Diamonds, Spades, Clubs and Hearts. This Solitare can be played with one, two or four suits. But let's start with the general rules that basically apply to all variations.
To Win
To group all the cards in sets of 13 cards in descending suit sequence from King to Ace.
Tableau
A tableau of 44 cards in ten piles, with five cards in each of the first four piles, and four cards in the remaining six piles. Alternately, a 54 card deal, with six cards in each of the first four piles and five cards in the remaining piles, is available. The top card of each column is available for play to another tableau column. Spaces may be filled by any card or valid sequence of cards.
Foundations
The foundations are not built on to directly. The goal is to create a suite of 13 cards of the same suit from Ace to King. When all of the cards have been grouped and automatically moved to the foundations, the game is won.
Stock
After all possible moves are made, click once on the stock to deal a new row of cards to the tableau. There is no redeal.
How to play
Available cards may be built down in value (any suit) ending at an Ace. A King cannot be built on an Ace. On clearing away cards above a face-down card in the tableau, the card is turned up and becomes available for play. A space made by clearing away an entire pile may be filled by any available card or build, as long as the build is built down in value. Any or all of the cards on the top of a tableau pile that are built down in value may be lifted as a unit to be built elsewhere. The top card of each tableau pile is always available.
Variations:
There are three variants of the classic Spider Solitaire. The first version of the solitaire is the simplest with one suit, the second is more complicated with two suits, and the third most difficult to unfold with four suits and collect it can not everyone. In a complex variant, the probability of winning is 30%. Actively using the cancellation of moves, the probability of winning is close to 50%. Also there is many another variations such as: Gigantic Spider, Relaxed Spider, Spiderwort, Spiderette, Black Widow, Simple Simon, Scorpion.
Same suit sequences should be preferred even though building is down regardless of suit. The object is to build down in suit sequences. Spaces should be made as soon as possible, and used to move cards into groups by suit. If you are able to build all cards in descending rank from King to Ace, then it is always possible to reorder the cards in descending suit sequence and move them to the foundations to win.